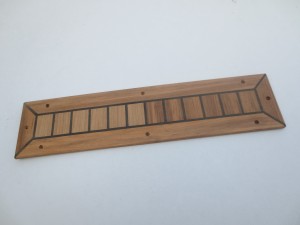 TLC have started a brand new service creating teak panels, which can be created to custom sizes in thicknesses from 6mm to 10mm.
Paper templates are used to specify the dimensions of the panels, then the panels themselves are laid up on an epoxy laminate and are glued and screwed into place.  Final fitting of the panels can be done by yourself as a DIY job, or we at TLC are also happy to fit them for you.
We will make panels to any size and shape, and they can also be curved to match the shape and layout of your job.  You can, if you wish, provide the templates yourself and we will ship the finished panels back to you anywhere in the world.
If you have any questions or would like a quote, please get in touch – our phone numbers and an email link are at the top of the page.